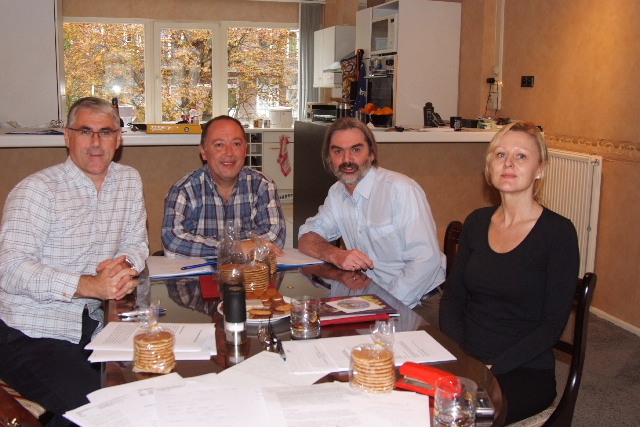 The picture above shows ECOs first board meeting in the Hague, Netherlands back in 2007.  Founder members Gareth Davies and Anton Vorderman were joined by  Nigel Mercer (left of picture  and current chair) and Mariam Ryan (far right of picture and our first treasurer) and Mariette Vermeylen-Nuyts of Belgian based VAGA to set out a vision and mission for the future
Over the last 14 years we have undertaken long term capacity building in Bulgaria and provided on the ground training for health professionals and families from the Baltic States to the Balkans, enhancing the work of cleft teams and providing better care for families.  We have succeeded in publishing Europe's first standard in early cleft care and used this to develop validated training courses with partners in 17 countries with over 2000 people trained  in Bulgaria, Cyprus, Estonia, Greece, Ireland, Italy, Latvia, Lithuania, Malta, Norway, Romania, Serbia, Slovenia, Spain, Sweden, Turkey and the UK through EU partnership programmes.  These courses are now expanded and, moving, with the times, we are now rolling out training online for health professionals and patient groups (see Slovenia Training)
As a resource for health professionals, researchers and families alike we are continuing to develop  the Gateway, an online register of cleft centres, health professionals and patient groups and this features as a key element in our communications strategy .  The Gateway is currently undergoing a complete rebuild to improve functionality and to facilitate easier updating of information.
Beyond Europe we teamed up with 5 other major players in global cleft care to produce the World Cleft Guidelines .  This collaboration has been inspirational and we hope the model of inter-organisational working  will encourage more collaboration in future to ensure everyone born with a cleft is able to reach their full potential.
As we move forwards we are aware that whilst good medical care is of course important, it is the wider context and environment that needs to be challenged and changed to ensure children and adults with born with clefts are given equal  opportunities to succeed – at school, in the job market and in society at large.  Stigma remains commonplace globally. We are delighted to be a founder member of Face Equality International who we work with closely to try to address these wider challenges.
None of our work would have been possible without the commitment and hard work of hundreds of volunteers, our board members past and present and of course our key funders over the years – EU grant programmes, Transforming Faces, Resurgens, Smile Train and the general public.   Thank you!